Valve unveiled a new Steam beta feature that allows PC gamers to stream their games without using Twitch. Amazon bought Twitch for $970 million in August, but Valve's newest broadcasting solution may leave Amazon feeling a bit steamed. (Sorry, couldn't resist.) The announcement for Steam Broadcasting starts off with "Watch friends play, with the click of a button." But what about your privacy?
For anyone concerned with privacy implications of Steam Broadcasting, there are several solutions besides not signing into Steam, or changing your "Friends" status to "Offline." For starters, to even try out Valve's PC game broadcasting, gamers must use Steam Client Beta. That option can be found under Steam Settings>Account. If you don't want to broadcast, don't opt into the beta client.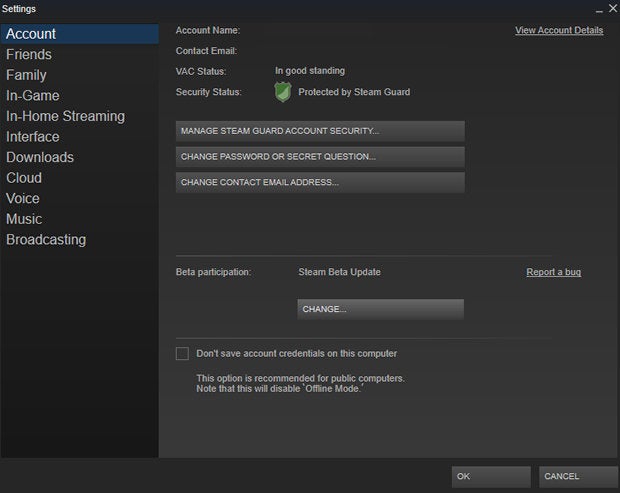 If you choose to participate or already do use Steam's beta client, then under Settings>Broadcasting the broadcasting default privacy setting option is "Friends can request to watch my games." Just because someone requests to watch doesn't mean you must grant permission. If you dislike the option of friends requesting to watch, then you can change broadcasting to "Only friends that I invite."
Thankfully, the creepy option to "Record my desktop when not in game" is not enabled by default. "Will people watching my game also see my desktop?" According to Steam Broadcasting support FAQs, "Only the game is visible by default, but 'Broadcast my desktop when not in game' is an available option in the Settings > Broadcast tab."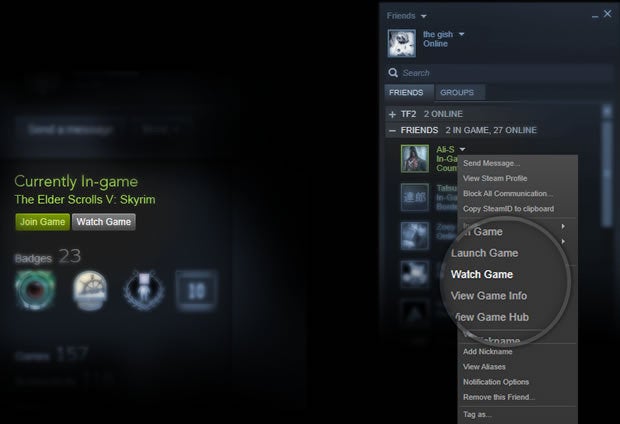 As Steam explains, if you see a friend "in game," then you can select "Watch Game." If a friend also using the beta client asks to watch, then Steam says, "The first time a friend asks to watch your game you'll be presented with the broadcast privacy settings." If you select the wide open option of "Anyone can watch my games," then your game will be visible on the Steam Community page under the Broadcast tab.
If you want to watch someone's gaming broadcast, then know that Internet Explorer and Firefox are not currently supported; trying to watch a broadcast in Firefox will display, "It looks like your web browser does not support the minimum set of features required to watch a broadcast." The latest versions of Steam Client, Google Chrome and Apple Safari are supported to watch a broadcast.
Currently, Steam Broadcasting is "supported through the Steam Client on Windows 7 and Windows 8. Support for Linux, OSX and Windows Vista will supported in the future." As of right now, broadcasts cannot be saved.
If you are ready to buckle up and broadcast, then under the Steam settings Broadcast tab, gamers can also tweak video dimensions up to 1080p, maximum bitrate up to 3500kbit/s, as well as whether or not (or where) to show chat in-game.
If you set your privacy settings to "anyone can watch my games," then you might tread with care if you are playing a modded game that includes adult content. Keep in mind that Steam says some content is "restricted," and broadcasts should not include several things, such as "porn, inappropriate or offensive content;" Steam allows viewers to "report broadcast" from the broadcast window/page.
While it seems like Amazon and Twitch might be miffed over Steam entering the PC game broadcasting arena, publicly the gameplay streaming service Twitch seems unfazed. Twitch VP of Marketing Matthew DiPietro told Joystiq:
We are huge fans of Steam and work with Valve regularly on various events and product integrations. While Steam's broadcasting solution and the Twitch platform are very different things with vastly different feature sets, it's really validating to see a company like Valve embrace streaming in this way. Live video is the future of social connectivity for gamers and this is another proof point. We wish them the best of luck.